Summer School Registration – Courses
The Summer School registration allows staff to see and manage courses and course enrollments. There are two course screens, course details, and course enrollment totals. The course details screen allows staff to manage and create courses. The course enrollment screen helps for sectioning and section creation in PowerSchool.
Course Details
To get to the student screen log in to sr.glenbard.org with an admin account and click Courses from the top menu.

Clicking edit or new course will show the following box.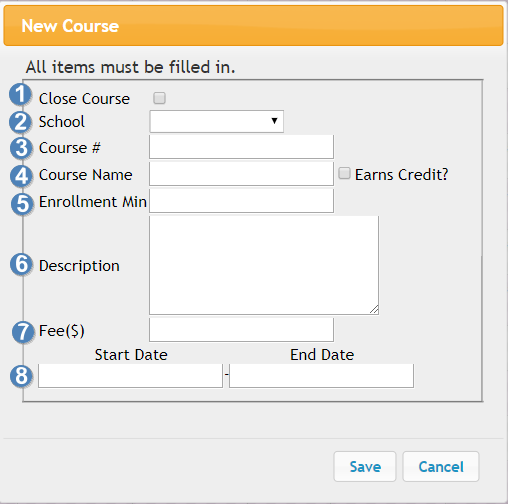 This will close the course and remove the ability for parents and students to enroll in the course. This checkbox has to be manually checked to close a course.
The school the course is managed by.
Note: The course may be hosted at another building.
The course number of the course. All credit courses need to have an existing course number that matches regular PowerSchool. Any enrichment and bridge must start with EC or BR respectively.

The course number is an autocomplete field. A course list will appear as the course number is typed. If a course is selected from this list many of the other fields will be automatically filled in.
Each course number can only have a single fee across the same course number.

The name of the course

This has a similar autocomplete as the course number above.

The cost of the course
The start and end dates the course is meeting

The start date will determine which summer school year it belongs to. Changing the date will move the course appropriately.
Do NOT reuse last year's courses. Do NOT change the start date to move to the new summer school year.
When managing courses there are few things to keep in mind. First, every year new courses must be made. Do NOT reuse previous year's courses. Second, there can only be one fee for each course number. Third, use the autocomplete feature to speed up course entry.
Course Enrollment
To get to the student screen log in to sr.glenbard.org with an admin account and click Enrollments under the Course menu from the top menu.

The course enrollment screen will list the course and its current enrollment. It will also break down how many sections will be needed (based on max 31 class size) and how many sections have been created in Summer PowerSchool so far. Also by clicking the current enrollment, a list of student names and phone numbers will appear.