Exit Code/Comments Guide
When a student exits a school, the Data Specialist/registrar must input specific ISBE exit codes and exit comments. The following is a guide to how those codes/comments should be formatted.
ISBE Exit Codes: Do not use code 11-Moved. 12/2020 Do not use 14- Aged out per Dawn Langdon.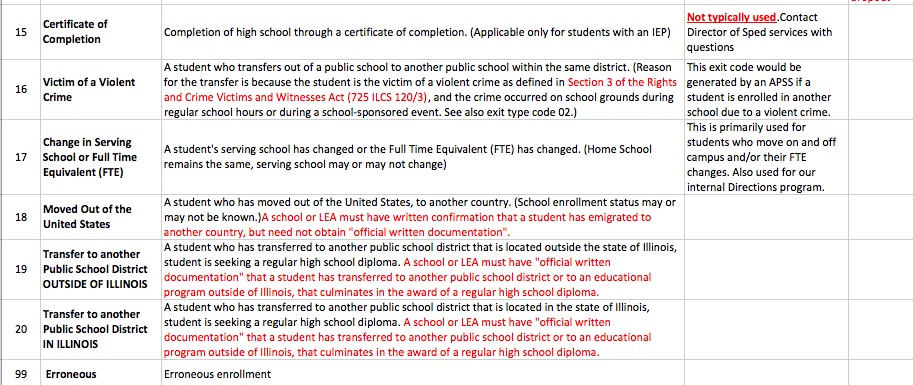 August Exit Enrollment process
Incoming freshmen – no shows -exit code 99 erroneous, exit date = 8/1
Students not returning – exit code = IL exit code, exit date = 8/1
Webhelp ticket to Cindy for cohort adjustment
(6th day count prep)
Exit no shows using 8/1 exit date, erroneous unless an exit code is provided
Exit after attending at least 1 day – Exit student per their exit date
After school begins (excludes 6th day exits)
The ISBE exit batch will automatically exit students – no tickets to Cindy unless transfer to another Glenbard school, Directions, off -campus, etc.
Exit Comments
If the student moved:
Moved.
Moved. LaGrange Twnshp HS; LaGrange, IL
If the student is home schooled:
Home schooled
If a student is dropped at the 6th-day count:
6th-day count drop
6th-day count drop. LaGrange Twnshp HS; LaGrange, IL (if you find out where he transferred to)
OR
Dropped. 6th-day count
Dropped. 6th-day count. LaGrange Twnshp HS; LaGrange, IL (if you find out where transferred to)
If the student aged out:
Assisted Program. Aged out at 22
If a student passes away:
Deceased
If the student drops out:
Dropped
Dropped out
Dropped. NAT
Dropped out. NAT
Dropped. GED
If a student is transferring to another Glenbard School:
Moved. Transferred to North, South, East, West – written out
Moved. TTN, TTS, TTE, TTW – abbreviated
Permission Letter. Transferred to North, South, East, West – written out
Permission Letter. TTN, TTS, TTE, TTW
If the student is in the Assisted Program but transferred to a facility:
Assisted Program. Transferred to Little Village; Palatine, IL
If a Freshman doesn't enter the school:
DNE
DNE. LaGrange Twnshp HS; LaGrange, IL (if you find out where he transferred to)
DNE. 6th-day count drop
DNE. 6th-day count drop. LaGrange Twnshp HS; LaGrange, IL (if you find out where he transferred to)
OR
DNE. Dropped. 6th-day count
DNE. Dropped. 6th-day count. LaGrange Twnshp HS; LaGrange, IL (if you find out where he transferred to)