Adding Students to School Store Groups thru PowerSchool
Glenbard has an online store through SchoolPay. Eligibility for items can be controlled through group enrollment in PowerSchool. The PowerSchool group enrollments are sent to SchoolPay each afternoon.
To enroll a student in a School Store eligibility group through PowerSchool, take these steps:
Search for and select the student in PowerSchool.
Scroll to the Administration heading on the Navigation menu on the left.
Click School Store.
Check the Enrolled check box for the appropriate group
This completes the enrollment process.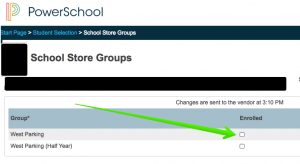 Importing Students to Groups
Students can be enrolled into groups in mass from a csv file.
Note: This process cannot be undone in mass. If a spreadsheet is imported incorrectly, the user will need to go through each student and manually drop them from the group through each students' profile.
If you have a listing of students in Excel, remove all columns except the student ID and save the file in CSV format.
Click Special Functions.
Click Import School Store Groups
Select the Group to import to from the drop-down list at the top.
Click the Choose Files button and browse your computer for the CSV file prepared in Step 1.
Click the Import Records button.